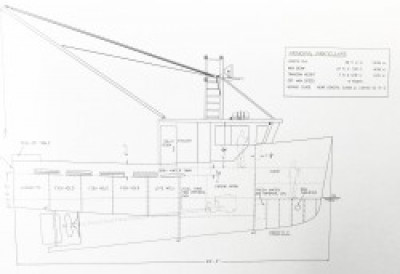 The "Landon" Lobstah is a 50' x 28' commercial lobster boat Covey Island is building for a New Brunswick client. This is the 1st commercial project we have done in several years.
We opened a new yard/facilty in the Port Mersey Commercial Park in Brooklyn, NS, (just outside Liverpool) specifically to build these commercial fishing boats. In order to accommodate the 28 ft wide hull, we needed to remove the 2 x 15' wide doors and replace them with a 32' wide door. We now have an excellent facility well suited for this type of project. Click here to read about Covey's new yard.
"Landon" Lobstah is being designed by EYE Marine and is based on Belliveau Shipyards Rhyno hull.