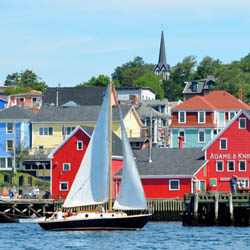 Covey Island Boatworks is proud to be part of the working waterfront that brings the UNESCO World Heritage Town of Lunenburg, Nova Scotia, to life.
Lunenburg combines breathtaking visual and architectural beauty, with the beating heart of an old-time maritime community.
The homeport of Bluenose II offers enchanting local shops and restaurants, small and large businesses, and a vibrant artistic side that is embraced by musicians, painters, and thespians.
We'd like to invite you to get to know Lunenburg as part of your Covey Island Boatworks experience. Please take a look at the videos below, produced as part of the Lunenburg Waterfront Walk series, which describe some of what you can expect to see as you explore the heart of Lunenburg.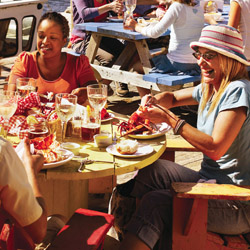 At Covey Island Boatworks, having your own custom yacht or restoration project completed at our yards in Lunenburg and nearby Liverpool is a remarkable experience and one with which we know you will fall in love.
As such, we offer our owners the chance to get "up close and personal" with the work being done at our yards in Lunenburg and Riverport. Our doors are always open and our staff are always accessible, from our head office to the floor of the yard where our crews are working, to answer your questions or talk shop.
As part of the Covey Island Boatworks experience, we'll help you co-ordinate your travel both to and within Nova Scotia.
Those arriving by plane will land at Halifax Standfield International Airport, approximately one hour from Lunenburg. Through our office, we can help you rent a car or make arrangements to travel to Lunenburg. We'll assist in booking accommodations at one of our quaint inns or bed and breakfasts in the area, and we'll be happy to recommend dining at nearby restaurants, local attractions, and shopping areas as well -- including where to get the best fresh local lobsters and scallops!