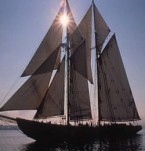 In 2010 Covey Island Boatworks incorporated a new joint venture company together with Lunenburg Foundry and Snyders Shipyard. The mandate of this new company, "Lunenburg Shipyard Alliance", (LSA) is to promote Nova Scotia's craftsmanship and boatbuilding skills to the world and help to bring Lunenburg's Working Waterfront back to life. LSA's focus will be the construction and refit of tall ships and other large yachts.
We are delighted to announce that LSA has been awarded our 1st contract….the complete restoration of the schooner Bluenose II !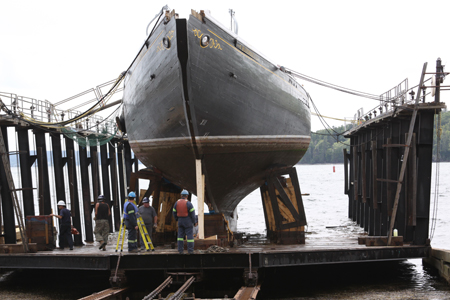 Work on this exciting project is now underway - updates will be posted to this area of our website frequently. Please see the news articles below for more information and check back as more details are made available and as work progresses.
"The iconic Bluenose II, Nova Scotia's sailing ambassador will shortly undergo a complete restoration. Built nearly 50 years ago as a replica of one of the greatest sailing champions of the last days of working sail, she is now showing her age and well beyond her 'best before date'.
The job will be carried out by a team of Nova Scotia boatbuilders with more than 200 years combined experience in the marine industry : Covey Island Boatworks, Lunenburg Foundry and Snyders Shipyard.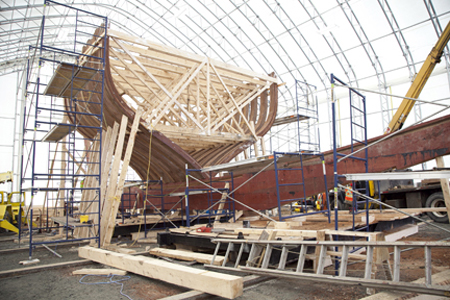 These companies have joined forces under a new joint venture company "Lunenburg Shipyard Alliance" in response to the announcement of plans to restore Bluenose II, with the longer term goal of bringing Lunenburg's Working Waterfront back to life through this and other tall ship and large scale yacht projects.
For Covey Island this will surely be the crowning achievement in a history of award winning boats which includes a long list of exceptional schooners. Among them Ted Brewer's "Tree of Life", Starling Burgess' "Nina", Chuck Burn's "Sir Edmund" as well as PaPa I, Maggie B and Farfarer all designed by Nigel Irens.
Lunenburg Foundry and Snyders bring decades of marine experience to the team having not only built traditional plank on frame vessels but also repaired and maintained Bluenose II and many other traditional vessels over the years.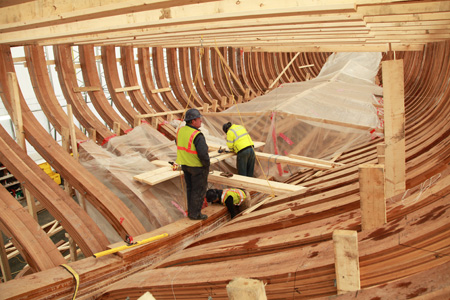 Interestingly, this same team worked together successfully a dozen years ago to restore the then 100 year old Bristol Channel pilot cutter Marguerite T.
The work will be carried out at the Lunenburg Shipyard Alliance's new facilities to be located within the confines of the Lunenburg Marine Railway Company on the waterfront in the beautiful and historic town of Lunenburg, a UNESCO World Heritage Site.
The restoration will be thorough and complete with each of the three companies focusing on its area of core competence. Covey Island will build the hull's laminated Angelique structural framework, her interior and deck houses, Snyders will build the traditional centreline structure, do the traditional Angelique planking and Douglas Fir decking, while Lunenburg Foundry will fabricate all of the metal components and do the mechanical and systems work.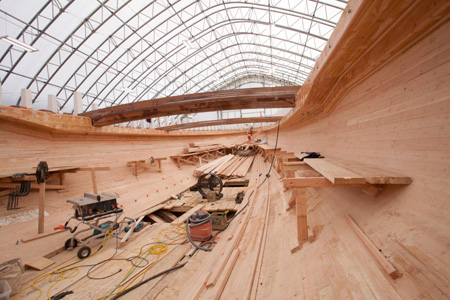 The improved engineering and better materials employed in this refit will send Bluenose II back to sea stronger and safer than ever. She will also be much easier to maintain.
The official launch ceremony celebrating Bluenose II took place in September 2012. After another 11 months of work back in drydock, she went back in the water on September 6, 2013.