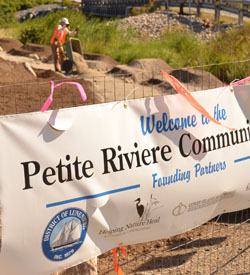 Covey Island Boatworks has long been a proud and active supporter of grassroots, community-driven initiatives here in our home — the South Shore of Nova Scotia.
In recent years, we've been pleased to lend our support through monetary and/or in-kind contributions to the Lunenburg Wooden Boat Reunion, the Lunenburg Folk Harbour Festival, and the Riverport 5K Run just to name a few.
In 2014, in partnership with the Municipality of the District of Lunenburg and the Petite Riviere Community Park Association, Covey Island Boatworks donated the land upon which our former yard in the community of Petite Riviere was located.
While we were saddened to lose our former home to fire in 2008 — along with the beloved schooner Maggie B — we, at Covey Island, are delighted that the property has been remediated and will soon become a cherished public space in one of our province's most beautiful seaside enclaves.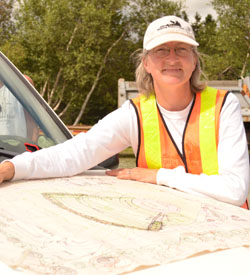 Work at the Petite Riviere park site wil be carried out through the summer of 2014 by the landscaping contractor Helping Nature Heal, with a grand opening planned for early October.
In addition to donating the land, Covey Island will also be furnishing the site with a 14-foot dory, which will be filled with pea gravel and ideal for young children to enjoy while playing.