Our Standards
How We Build 
METHODS
Composite Wood/Epoxy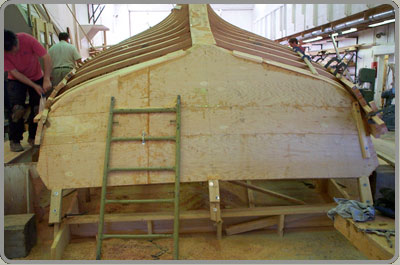 Simply put, this is the best way to build a boat.
From an engineering point of view, wood, the oldest boat building material remains one of the best. Wood is light and strong, pliant yet remarkably stiff. It is warm, quiet and does not sweat. For the artistry of the shipwright, wood is also the material of choice, providing unmatched interior beauty and comfort.
The combination of wood, epoxy (the strongest man-made adhesive) and the various fabrics used in composite wood/epoxy construction, optimizes wood's strengths and eliminates its weaknesses. By creating a barrier to moisture, the strong, light and durable wood/epoxy structure is stabilized, and leaks, blisters and rot are no longer a concern.
The beauty of wood can now be associated with a construction method of the highest engineering advantage and the lowest maintenance. As Reuel B. Parker puts it in his book The New Cold-Moulded Boatbuilding:
I, for one, happen to think that wood, used in conjunction with the right resins and fabrics in efficient and sensible ways, can produce the best all-round boats that have ever been available on earth.
STANDARDS

Building a fully custom yacht includes meeting any recognized standard you require. We were one of the first North American yards to build a custom yacht to CE standards (1998).
We also build to ABYC and other construction and racing standards.
TRADE ASSOCIATIONS
Covey Island Boatworks is a member of two boat industry trade associations, one on each side of the Atlantic.
In 1994, the yard became the first foreign boatbuilder to be voted membership in the United Kingdom'sWooden Boatbuilders Trade Association (WBTA). http://www.wbta.co.uk/
Its aim is "to establish a high standard of service and workmanship in the wooden boatbuilding trade which our customers can rely on" and boasts that its logo assures "quality, reliable service, and skilled craftsmanship."
Covey Island Boatworks was a founding member and is now an associate member of the The Nova Scotia Boatbuilders Association (NSBA). http://nsboats.com/
The NSBA, which represents the vast majority of Nova Scotia's full-time yards, encourages its members to "follow quality practices in all aspects of boatbuilding, and provides many tools and resources to help them achieve consistent standards of quality, value, safety and service." Members agree to abide by NSBA's Code of Ethics. http://www.nsboats.com/index.php?page=about