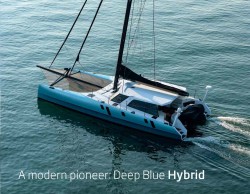 Covey Island is pleased to announce we are an OEM partner and dealer for Torqeedo Electric Motors.
For more details on Torqeedo's product line, please visit their website or contact us.
In 2004 when Torqeedo was first founded, phrases like "clean tech" and "electromobility" had not yet been coined. Though they started as pioneers in the world of water-based electromobility, today Torqeedo are marker leaders offering outboards and inboards, electric motors and hybrid drive systems ranging from 1hp to 80hp.
We offer services to convert your boat to an electric or hybrid drive system or will sell you the components anywhere in Canada or the USA to do so yourself or have another yard install them for you.
Visit our Covey Electric and Hybrid Website www.coveyelectricmarine.com